where is it moving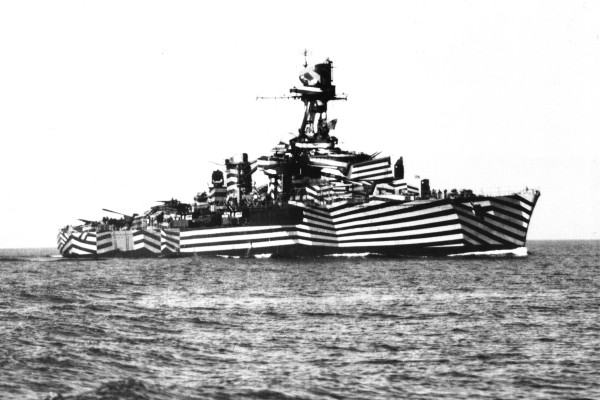 During the First World War, British and American naval forces created a new kind of stunning camouflage. Working to protect ships from the ravages of U-boats, officers quickly discovered that no paint job could hide thousands of tons of steel between sky and sea. A pattern perfect for a cloudy day would stand out on sunny one. Instead, military minds decided that if they could not mask what they were, they might at least obscure where they were going. Borrowing from contemporary art movements, especially Italian futurism and British
Vorticism
, ship-makers painted brilliant stripes and bright curves of pure color across once dull gray bows. Working against the principles of perspective, the new dazzle ships seemed to move, plough and drift in every direction at once, confusing the common sense of the average U-boat periscope operator.
My love (DFA Mix)- Justin Timberlake
This is razzle dazzle slink disco from prominent groove captains. It doesn't hit like a warship, but not all spaceships do it like that. Coming or going? Unclear.
Read more about dazzle ships
here
and
here
.
what hath hatched
An incredible interview with the GZA
here
. Some of the most interesting words about music that I've read all year. The most 'intellectual' member of the Wu Tang breaks down his rhyme style, complete with me v. them examples. Much better than the completely-by-the-numbers waxpoetics interview with T..I. or the Blender/timbaland joints. Specialty internet outlets, 1. Mainstream mags with much better access, 0.
Now, relentless Southern raps on super nintendo beta beats.
Trae-Real Talk
i told myself to join my band
Do I still have the heat? Let's just say I'm going to grab the monkey wrench and give y'all a last taste of summer.

Loose Joints- Shoot the Pump
Thanks to the MPthree generosity of DJ
ayres
.
photo by tim barber.